New Video Tutorial Course by James Woo
Apr 8, 2016
Shotcut power user, James Woo, has created a wonderful course on how to use Shotcut.
Currently, it contains 24 videos and costs $25, but it only costs $20 using the coupon code in the link on this blog post! As the lead developer of Shotcut, I reviewed the entire course, and I think it is very good. James clearly and accurately explains many thing from basics to more advanced techniques such as picture-in-picture, chroma keying, and using custom HTML. The lessons are sequenced in a nice progressive manner, but you can also directly visit specific topics. These are presented in the English language.
New Release 16.04
Apr 1, 2016
Version 16.04 is now available for download.
Added Normalize: One Pass audio filter (existing Normalize renamed Normalize: Two Pass.
Added Audio Loudness to View > Scopes.
Added Brightness video filter for CPU and GPU.
Added Contrast video filter for CPU and GPU.
Added Reduce Noise video filter for CPU only.
Added More Information to clip Properties overflow-menu.
Added Start Integrity Check Job to clip Properties overflow-menu.
Added auto-rotate for video clips with orientation metadata.
Install ffplay and ffprobe executables.
Fixed frequently reported problem with black video on Export.
Fixed a few crashing bugs.
Added an option to Windows installer to remove registry settings to help people with new crash-on-launch problems.
Reduced memory usage when exporting a playlist or multitrack project.
Improved visual feedback about what is selected in Timeline, Properties, and Filters views.
Added a Ukranian translation.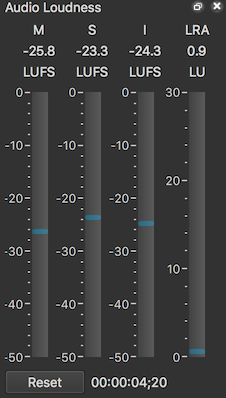 New Release, Web Site & Forum
Mar 1, 2016
Version 16.03 is now available for download.
Changed player tab Program to Project.
Changed panel name Encode to Export.
Added a From field to the Export panel to allow exporting the project, a clip loaded in the Source tab of the player, or or each playlist item as a batch of jobs.
Added an export preset for animated GIF.
Upgraded FFmpeg to v3.0.
Upgraded MLT to v6.0.0.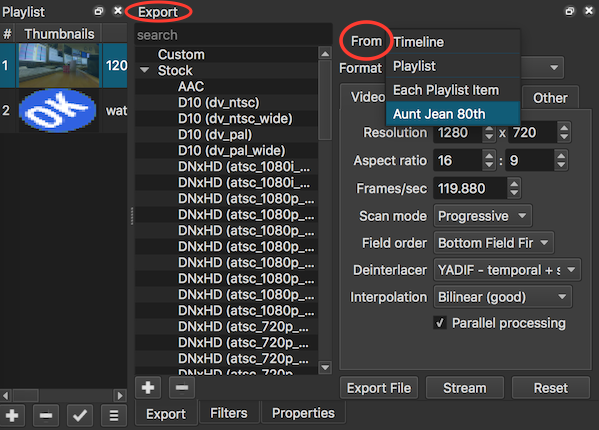 New Release 16.02
Feb 2, 2016
Version 16.02 is now available for download. This release is mostly just bug fixes and improvements to the integration of the clip speed option in Properties. There are a few new, minor things::
Audio waveforms on timeline are updated incrementally as progress is made.
Allow dual pass encoding for CBR.
Added Show Video Thumbnails option to the timeline menu.
Added Rebuild Audio Waveform to a timeline clip's context menu.
New Release 16.01
Jan 2, 2016
Version 16.01 is now available for download. We added two big new features for this release: clip speed and chroma key! Here is the full list new things:
Added Speed parameter to Properties for an audio/video clip.
Added Properties views for track and timeline when selected. Click track head to select track; click the timeline's cornerstone (top left block) to select the timeline.
Added Blend mode to track properties (not available in GPU processing mode; only applies when compositing is enabled in the track header).
Added Alpha Channel: View video filter.
Added Alpha Channel: Adjust video filter.
Added Chroma Key: Simple video filter.
Added Chroma Key: Advanced video filter.
Added Key Spill: Simple video filter.
Added Key Spill: Advanced video filter.
All of the new video filters are intended to facilitate chroma keying; however, the Alpha Channel filters do have some general usefulness outside of keying. Please note that "Alpha Channel: View" is not really intended to be an effect that gets baked into your rendered and encoded output. You can leave it in the filter list, but toggle the filter by clicking the checkbox or double-clicking its name in the list of attached filters to turn it off. "Key Spill" is also know as "color spill" and "spill suppression," and it refers to the background color bleeding into the foreground. None of these new video filters can utilize GPU-processing at this time; however, they do support multi-core rendering when Settings > Realtime is turned off or when exporting. You can use them in conjunction with GPU processsing; they just will not take advantage of the speed and quality the GPU mode provides.
Regarding speed control, it is a simple frame-drop/-duplicate approach. It does not attempt to do any frame-blending or advanced optical flow analysis. Now, with that said, you can get nice results slowing down high frame-rate footage. However, you must ensure that your project is running at a typical 24 - 60 fps because Settings > Video Mode > Automatic may otherwise adopt the clip's frame rate. (In automatic mode, the project is based on the first item you add to the playlist or timeline or on the opened clip if playlist or timeline is not used.)