New Release 16.06
Jun 1, 2016
Version 16.06 is now available for download. There are number of changes and additions in this release:
Show red outline on scrub bar of Source player to indicate selection.
Added Cut, Copy, and Paste to Edit menu and Timeline tool bar.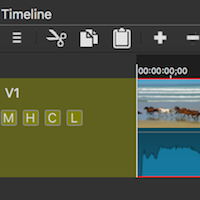 Changed double-click on Timeline clip to select+seek instead of copying to Source player.
Changed Timeline keyboard shortcut A to append.
Changed Timeline keyboard shortcut C to copy.
Changed Timeline keyboard shortcut Enter to seek to start of clip.
Added Peak and True Peak meters to the Audio Loudness scope.
Added version/upgrade-checker.
Added check for missing files when opening .mlt XML project file.
Added dialog to locate and resolve (relink) missing files in project file.
For clips with speed changed, added support for saving and loading relative path and file names.
Added Export EDL to the File menu.
Added YouTube preset to Export (which does the same thing as not changing any export settings, not selecting an export preset, or clicking Reset).
Updated Blackmagic Design SDI/HDMI output to work with recent driver updates.
New Release 16.05
May 1, 2016
Version 16.05 is now available for download. This version is mostly just fixes, but there are a few small additions and changes:
Added Remove to Jobs panel.
Added 25% option to player's Zoom button-menu.
Improved application logging.
Moved status messages front and central and removed status bar.
New Video Tutorial Course by James Woo
Apr 8, 2016
Shotcut power user, James Woo, has created a wonderful course on how to use Shotcut.
Currently, it contains 24 videos and costs $25, but it only costs $20 using the coupon code in the link on this blog post! As the lead developer of Shotcut, I reviewed the entire course, and I think it is very good. James clearly and accurately explains many thing from basics to more advanced techniques such as picture-in-picture, chroma keying, and using custom HTML. The lessons are sequenced in a nice progressive manner, but you can also directly visit specific topics. These are presented in the English language.
New Release 16.04
Apr 1, 2016
Version 16.04 is now available for download.
Added Normalize: One Pass audio filter (existing Normalize renamed Normalize: Two Pass.
Added Audio Loudness to View > Scopes.
Added Brightness video filter for CPU and GPU.
Added Contrast video filter for CPU and GPU.
Added Reduce Noise video filter for CPU only.
Added More Information to clip Properties overflow-menu.
Added Start Integrity Check Job to clip Properties overflow-menu.
Added auto-rotate for video clips with orientation metadata.
Install ffplay and ffprobe executables.
Fixed frequently reported problem with black video on Export.
Fixed a few crashing bugs.
Added an option to Windows installer to remove registry settings to help people with new crash-on-launch problems.
Reduced memory usage when exporting a playlist or mulitrack project.
Improved visual feedback about what is selected in Timeline, Properties, and Filters views.
Added a Ukranian translation.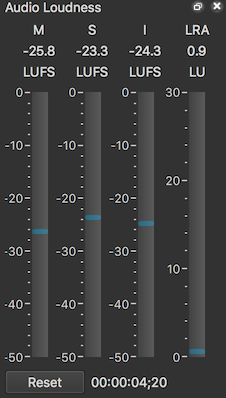 New Release, Web Site & Forum
Mar 1, 2016
Version 16.03 is now available for download.
Changed player tab Program to Project.
Changed panel name Encode to Export.
Added a From field to the Export panel to allow exporting the project, a clip loaded in the Source tab of the player, or or each playlist item as a batch of jobs.
Added an export preset for animated GIF.
Upgraded FFmpeg to v3.0.
Upgraded MLT to v6.0.0.