Jun 1, 2016.
Version 16.06 is now available for download. There are number of changes and additions in this release:
Show red outline on scrub bar of Source player to indicate selection.
Added Cut, Copy, and Paste to Edit menu and Timeline tool bar.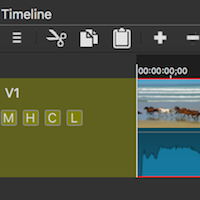 Changed double-click on Timeline clip to select+seek instead of copying to Source player.
Changed Timeline keyboard shortcut A to append.
Changed Timeline keyboard shortcut C to copy.
Changed Timeline keyboard shortcut Enter to seek to start of clip.
Added Peak and True Peak meters to the Audio Loudness scope.
Added version/upgrade-checker.
Added check for missing files when opening .mlt XML project file.
Added dialog to locate and resolve (relink) missing files in project file.
For clips with speed changed, added support for saving and loading relative path and file names.
Added Export EDL to the File menu.
Added YouTube preset to Export (which does the same thing as not changing any export settings, not selecting an export preset, or clicking Reset).
Updated Blackmagic Design SDI/HDMI output to work with recent driver updates.